Psychotherapy Matters Virtual Clinic: Transforming Mental Health Care
Psychotherapy Matters Virtual Clinic (PMVC) provides the right help matched to your needs. PMVC means faster access to the best care for everyone in Ontario:
Psychiatrists and Psychotherapists
Psychiatrists (MDs who can prescribe medications) and Therapists (qualified allied professionals) connect using secure videoconferencing.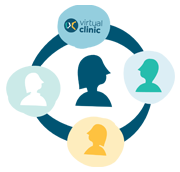 Team-based care
Clients and their families have access to timely support and a circle of care. Family Doctor, Therapist and Psychiatrist are all on the same page.