Our services
The right care, when you need it
We know that the traditional mental health system can be overwhelming. There are lengthy wait times to see a psychiatrist, multiple options for medication, and various forms of psychotherapy. It's hard to know where to start, or what to do if your therapeutic progress begins to stall. You want to feel better and get back to living a full life. We can help.
Psychotherapy Matters was developed to create a new model of accessible, compassionate mental health care for every Ontarian. We link therapists and their clients with psychiatrists and family doctors through a secure online care platform, known as our Virtual Clinic. Through collaboration, we create healthier, happier clients and patients.
---
Getting started with our virtual collaboration
Our Virtual Collaboration enables your therapist to work collaboratively with you, your primary care physician, and a psychiatrist.
Psychiatrists are medical doctors who specialize in mental health issues. They differ from other mental health professionals because they can provide clinical diagnoses, suggest medications and monitor them to ensure the patient is feeling their best.
The clinic is called a Virtual Collaboration because the psychiatrist will only be present via video conferencing (much like Skype or FaceTime, but on a confidential, HIPAA-compliant platform). With your consent, the psychiatric consultation will occur in your therapist's office, while your therapist is present in the room with you, and with everyone working as a team.
The Virtual Collaboration logo means that your therapist is a member of the Psychotherapy Matters Virtual Collaboration.

---
Mental health care that fits your need
Psychotherapy Matters Virtual Collaboration/Clinic (PMVC) provides the right combination of mental health care, according to your needs. PMVC also means faster access to the best care for everyone in Ontario, without lengthy referral times and wait lists.
Linking psychiatrists and therapists
Psychiatrists (medical doctors who can recommend medications), therapists and their clients connect using the Psychotherapy Matters' secure video-conferencing – also known as our Virtual Collaboration.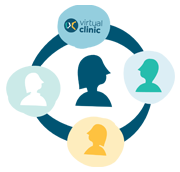 Team-based mental health care
Individuals and their families have access to timely support and a wider circle of care. The family physician, therapist and psychiatrist are aligned on the individual's mental health treatment plan.
"Psychotherapy Matters Virtual Collaboration supports my Psychotherapy practice through invaluable psychiatry consultations delivered by caring and dedicated Psychiatrists. My clients benefit from virtual diagnosis, medication recommendations, and psychotherapy provided within the comfort of my office. This is an exceptional service!"

Leila Mackay M.A. R.P., Member