About

Our mission
To provide Ontarians with the best mental health care as quickly as possible.
Our philosophy
Quality mental health care should be easy to access, client-centred, collaborative, and available to everyone.
Find the right mental health care
Access to psychotherapy and psychiatric services is the largest unmet need in Canadian mental health care. Psychotherapy Matters was founded to make it easy for people to find the right services matched to their needs. It's easy to talk to a therapist; now it's even easier to find them.
Psychotherapy Matters makes it easier to search for a local therapist, to choose a service according to specific preferences, and to connect directly to the help needed in a safe and confidential way.
Collaborative client-centred care
Psychotherapy Matters Virtual Clinic is at the cutting edge of collaborative care and uses the internet to seamlessly integrate psychotherapy providers, primary care physicians, and psychiatrists.  We provide timely access to the highest quality mental health services matched to need.
Psychotherapy Matters is a social impact corporation funded by social venture investors and sustained by the community of psychotherapists and complementary service providers.  
Transforming Mental Health Care

Psychotherapy Matters Virtual Clinic (PMVC) provides the right help matched to your needs. PMVC means faster access to the best care for everyone in Ontario:
Psychiatrists and Psychotherapists
Psychiatrists (MDs who can prescribe medications) and Therapists (qualified allied professionals) connect using secure videoconferencing.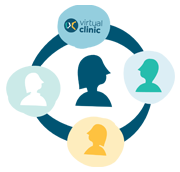 Team-based care
Clients and their families have access to timely support and a circle of care. Family Doctor, Therapist and Psychiatrist are on the same page.
Our Team keeps growing
| | | |
| --- | --- | --- |
| 194 therapists | Includes: Social Workers, Registered Psychotherapists, Psychologists, Occupational Therapists and Nurses | |
| 11 clinics | Clinics are mental health care settings where groups of professionals practice together. | |
| | | |
| --- | --- | --- |
| 4 psychiatrists | Sub-specialties include: Child and Adolescent and Geriatric psychiatry. | |
---
Executive Staff
Dr. Allan B. Steingart, BSc, MD, FRCP(C)
Allan is the President and CEO of Psychotherapy Matters Inc. and an Assistant Professor of Psychiatry (Clinical/Part-time) at the University of Toronto (see some of his research here). He has been in practice for over 30 years and believes that psychotherapy and collaborative care should be the first line of treatment for all mental health issues and available to everyone.
---
Madoka Steingart, BA, PhD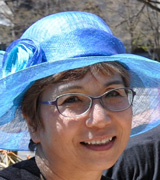 Madoka is the Director of Marketing and Communications . She completed her BA in psychology at Kwansei Gakuin University in Japan and her graduate studies at McMaster University. She is trained in cognitive behavioural therapy (CBT), mindfulness-based cognitive therapy (MBCT) and interpersonal psychotherapy (IPT).
You can email madoka@psychotherapymatters.com
---
Vicky P.K.H. Nguyen, MD, PhD
Vicky is a psychiatry resident at the Northern Ontario School of Medicine (NOSM). She completed her PhD and MD training at the University of Toronto. Her research interests are directed at promoting innovative practices and policies to address sub-optimal wait times, access equity, and quality of health care services for disadvantaged populations in Ontario.  She is a certified provider of CBT and IPT.  She is training to provide DBT, and Psychodynamic Psychotherapy.  Vicky is Allan's and Madoka's assistant in building and growing the Virtual Clinic.  If you would like to contribute to our Blog, please contact vicky@psychotherapymatters.com
---
Heather Speer, BA
Heather is the Director of Membership Development for Psychotherapy Matters Inc.
Please contact Heather if you have any membership questions. Feel free to contact her anytime if you are an existing member or you want to become a member.
Heather can be reached at heather@psychotherapymatters.com

Our Partners
---
---