Our team
Includes: Social Workers, Registered Psychotherapists, Psychologists, Occupational Therapists, and Nurses
Clinics are mental health care settings where groups of professionals practice together.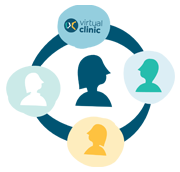 Sub-specialties include: Addictions, Child and Adolescent, and Geriatric psychiatry.
---
Our executive team
Dr. Allan B. Steingart, BSc, MD, FRCP(C)
Allan is the CEO and Founder of Psychotherapy Matters. He has been in practice for over 30 years and believes that psychotherapy and collaborative care should be the first line of treatment for all mental health issues, and available to everyone. He loves psychiatry and has made some significant research contributions (see some of his research here).
Madoka Steingart, BA, PhD
Madoka is the Chief Services Officer (CSO). She completed her BA in psychology at Kwansei Gakuin University in Japan and her graduate studies at McMaster University. She is trained in Cognitive Behavioural Therapy (CBT), Mindfulness-Based Cognitive Therapy (MBCT), and Interpersonal Psychotherapy (IPT).
Madoka can be reached at madoka@psychotherapymatters.com