A collaboration based platform
for better mental health care
What we do
Psychotherapy Matters is a comprehensive mental health care platform that prioritizes collaboration and puts you at the centre of your care. With our platform, you can easily find the right therapist for your unique needs, and also benefit from valuable psychiatry consultations as needed. By bringing together the expertise of both your therapist and a psychiatrist, you'll receive a more holistic and effective approach to your mental health care. Plus, we make it easy to share your progress with your family doctor for more coordinated care.
How we can help
Find a therapist
Our free online mental health directory helps you find the right counsellor, psychotherapist, or social worker services near you.
Become a patient
Collaborative Care enables you to have a psychiatric evaluation and medical monitoring, without leaving the comfort of your therapist's office.
Become a member
Our online platform provides practitioners with a collaborative mental health solution to share decision-making for challenging client cases.
Collaborative care for better mental health
Accessible psychiatric support: You benefit from a diagnosis, medication recommendations or monitoring, and psychotherapy. With the comfort of your therapist present during psychiatric consultations, you can feel supported and empowered throughout your treatment journey.
Save time, skip the wait: With our Virtual Mental Health Physicians, we work alongside your therapist, while saving you excess travel, multiple practitioner visits and lengthy wait times.
Psychotherapy Matters Collaborative Care
When you need mental health support that you can rely on, Psychotherapy Matters can help. Our Virtual Mental Health Physicians bring you the right care, at the right time.
2000+
patients we help each year
300+
therapy practices in our network
185
towns and cities served across Ontario
"I feel tremendous hope for the future of mental health care knowing that there are dedicated folk behind PMVC [Psychotherapy Matters Virtual Collaboration] working to grow this service for families like mine."

Lori Himsl, parent of a patient
See your therapist
Your therapist will provide you with a pre-filled referral form. If you don't have a therapist, we can match you with one.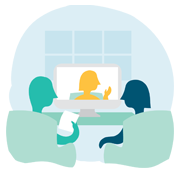 Request a referral
Simply take the form to your primary care physician to get a referral to one of our psychiatrists.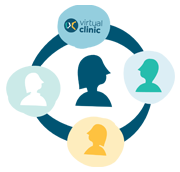 Meet your team
We will connect you and your therapist with a psychiatrist and get you on the path to feeling your best.