Transforming Mental Health Care
What we do
Psychotherapy Matters Virtual Clinic (PMVC) offers cutting-edge, collaborative mental health care, providing the right help matched to your need. PMVC means faster access to the best care for everyone in Ontario:
Medical referrals
Family doctors refer their patients to a trusted network of PMVC Therapy Providers linked to Psychiatrists.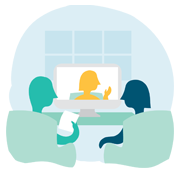 Psychiatrists and Psychotherapists
Psychiatrists (MDs who can prescribe medications) and Therapists (qualified allied professionals) connect using secure videoconferencing.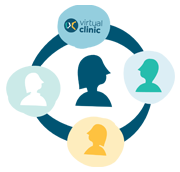 Team-based care
Clients and their families have access to timely support and a circle of care. Family Doctor, Therapist and Psychiatrist are on the same page.

---
---
Search for a therapist
Search our comprehensive and unbiased directory of therapy providers. Let us help you find the best match for you.
---
Don't know where to start?
Use our self-help resources to learn more about mental health issues. Discover the types of therapy available to you.
PMVC offers a free, confidential telephone assessment to help you start your search.
Phone (toll free): 1 800 254-1235
Do you provide psychotherapy or mental health services?
You can join the team and help to transform mental health care in Ontario.